LVDT technology, direct or chamber mounted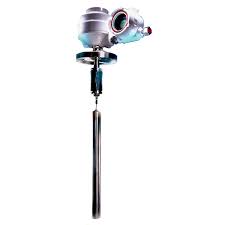 MLT100 SMART HART DISPLACER LEVEL TRANSMITTER
The Delta Mobrey MLT100 Level Transmitter is one of the most advanced displacer based devices on the market, coupling the time proven buoyancy principle with state of the art electronics in an instrument of high reliability and stability.
Special care has been taken in design to ensure a small mounting envelope is maintained, resulting in reduced weight and associated savings in mounting.
Available Worldwide excluding Europe.
Low maintenance, Simple installation, Local or remote calibration
Each transmitter is fitted with a visible LED which flashes once every 3 seconds to show the instrument is healthy and working.
Unique 'Caliplug' for local configuration and calibration and also supports the HART protocol.
Operating wetside temperatures are -60 to +320 °C at pressures between full vacuum and 200 bar. Remote electronics models available to special order for high temperature and nuclear applications.
Most liquids can be measured, with wetted materials chosen to suit. The liquid SG range is from 0.5 to 1.5, and interfaces with as low an SG difference of 0.1 are also practical.
Ideal for use in applications including Knock-out pots, Condensate drums, Separators and Storage vessels.