Threaded temperature sensor without cooling neck
Temperature sensors
EPIC® SENSORS temperature measuring sensors for various industrial temperature measurement applications.
You can find all our temperature sensor standard types 1…23 and information of Ex sensors below. Datasheets of individual sensor types, with corresponding numbering, can be found in the section. To build a correct product code for your application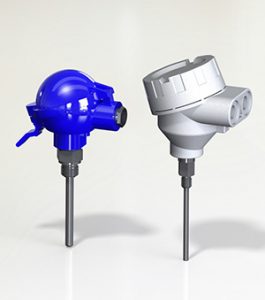 Threaded temperature sensor without cooling neck
T-B-ØK / W-B-ØK, acc. to standard DIN 43772 form 2 (datasheet)
Features
temperature range -40…+250 °C
Pt100 or thermocouple (TC)
thermowell material according to the application
available also with special coating »
Pt100, accuracy class A, as a standard, more accurate on request
TC, class 1 as a standard
replaceable inner element, MI-construction
tailored solutions according to specific needs
ATEX-versions, Exi and Exd available.