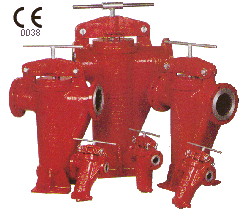 150-300LB Quick Release Basket Strainers
The 150-300LB Basket Strainer, also known as Mono-in-line Strainer, is designed for the efficient removal of solid/foreign material from flowing liquids & gases.
Our Quick Release range of Basket Strainers are manufactured to with end connections machined to recognised International Standards such as ASME B16.5.
Advantages of Basket Strainers over Y-Type Strainers
• Debris contained in basket
• Quick Release closure for easier maintenance
• Larger filtration area/Dirt holding capacity
Barton Firtop's Basket Strainers offer a LARGER filtration area than similar strainers on the market, ensuring minimal pressure loss, improved flow-rates & greater dirt holding capacity, leading to longer service/ maintenance intervals.
Material

Connection Type

Size (NB)

Ratings Available

Cast Carbon Steel
(ASME SA216 WCB)

Flanged RF

1″ to 12″

ASME B16.5,
Class 150LB & 300LB

Cast Stainless Steel
(ASME SA351 CF8M

Flanged RF

1″ to 10″

ASME B16.5,
Class 150LB & 300LB
Download Mono Data Sheets
Special Item Availability:
Basket Strainers are available from Barton Firtop, manufactured to order with a number of specialised requirements, often utilising ex-stock castings: –
• Pressure ranges up to 2500LB & API 10,000
• Special levels of NDE and material testing can be performed
• All exotic and non standard material ranges can be achieved