Screwed Y-Type
Typical Stainless Steel Screwed Y-Type Strainer.
Flanged Y-Type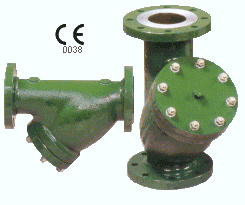 Flanged Y-Type strainer.
Supplied in red oxide primer as standard.
The Y-Type Strainer is the most common & economic type of strainer for permanent applications, suitable for mounting in horizontal & vertical pipelines.
Our Flanged Y-Type Strainers are designed and manufactured to with end connections machined to recognised International standards such as ASME B16.5 and EN1092-1 (previously BS4504).
Major Applications
Generally coarse filtration for the following example applications:
• Pump Protection
• Flowmeter Protection
• Valve & Regulator Protection
• Instrumentation & Ancillary Piping Item Protection
Material

Connection Type

Size (NB)

Ratings Available

Cast Carbon Steel
(ASME SA216 WCB)

Flanged RF

½" to 12″

ASME B16.5,
Class 150LB & 300LB

Cast Stainless Steel
(ASME SA351 CF8M)

Flanged RF

½" to 10″

ASME B16.5,
Class 150LB & 300LB

Cast L.T.C.S.
(ASME SA352 LCB/LCC)

Flanged RF

½" to 10″

ASME B16.5,
Class 600LB
Download Y-Type Data Sheets